Houses for sale hit 14-year low, asking prices surge
King Country house prices attract buyers
Lower house prices and job opportunities are attracting more property buyers to the King Country.
The number of houses for sale nationwide is at a 14-year low, and the average asking price at an all-time high, new data from property website Realestate.co.nz shows.
There are only 12,684​ homes available to purchase on the site, 34.8​ per cent lower than the same time last year.
The average asking price rose to $893,794 in July​, the highest since the site's record's began.
The regions hit the hardest by stock shortages were Coromandel, Northland and Nelson Bays​ which all had their housing stock more than halve in a year.
Vanessa Williams​, a spokeswoman for Realestate.co.nz said the starkest figures were seen in Northland.
"At its peak in December 2010, Northland had over 4600 properties available to buy. Now it has just 470, a drop of 90 per cent in nine years," Williams​ said.
Canterbury, the West Coast, and Central Otago/Queenstown Lakes​ also hit 14-year lows, with their stock dropping just under 50 per cent.
Wairarapa was the only region with an increase in properties for sale, up 13.3 per cent compared to last year.
Across the country, there were 11.3 per cent fewer homes for sale than at the same time last year.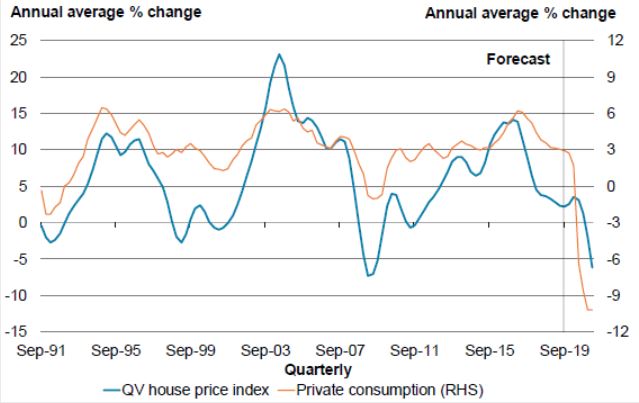 Treasury
How house prices influence consumer spending.
​
Williams said the data pointed to price increases continuing to increase at pace.
"When records began in 2007 through to 2013, national average asking prices rose by about $50,000 over that eight-year period. In the following five years they rose by about $200,000," Williams​ said.
House prices: What is your strategy for buying in this market?
Share your experiences, photos and videos
"But since the end of 2019, they've gone up by $200,000 again in the last two years."
The biggest increase in asking price was seen in the Central North Island with an increase of almost 50 per cent from last year to an average $771,169.​
Central Otago/Lakes District​ was the most expensive region to purchase a property, with the average home now priced at a record $1,210,233.​
The average asking price in the Auckland region rose almost 20 per cent to an all-time high of $1,177,528.​
Wellington also had a price increase of 25 per cent, bringing it to an average asking price of $920,050.​
Continue reading this article at the original source from Stuff.co.nz
Thinking of Selling a Property in Wellington?
Our Exclusive Marketing Offers, Advanced Digital Targeting and Competitive Rates will Get You the Results You Want. Find Out More HERE
Own property in Wellington? Get our Free Halina Sells Houses e-Newsletter HERE