We strive to keep Wellington property owners up to date with the latest property information.
Here is another interesting Wellington real estate related news article that we thought may provide you with helpful information.
---
The growth of our housing markets may be reaching a 10-year high. Indications are that the recent rapid run-up in values may be topping out, and falls are now a real possibility.
Our housing markets are large.
The value of all houses topped NZ$1 tln in mid 2016, having grown by a remarkable +55% in the past five years. In dollar terms, that is a rise in asset "values" of more than $350 bln. In 2016 alone, those values rose +$140 bln, a gain of +16%.
To put that in perspective, our economy grew by $261 bln in the same period, an impressive +7% rise in nominal terms. (Housing value growth is not included in GDP. GDP is a measure of economic activity, not values.)
So, in 2016, housing values rose at more than twice the rate the general economy did.
While that is probably no surprise to interest.co.nz readers, today's values are clearly not sustainable.
It is likely that housing values now represents about 20% of all the country's domestic assets1. We estimate that is up from 16% just five years ago. But interestingly, ten years ago after the heady days pre-GFC (and pushed ahead by the 39% income tax rate that encouraged many taxpayers to seek 'tax-advantaged investments') the value of housing represented 25% of all the nation's assets.
The languishing of house prices in the five years post 2008 were crucial in getting the balance back to 16%.
New data can allow us to drill into the nature of these remarkable changes – even if we can't drill into regional components.
The RBNZ now classifies investor housing as a business asset. We can track that by deducting owner occupied housing from total housing values, as this chart does.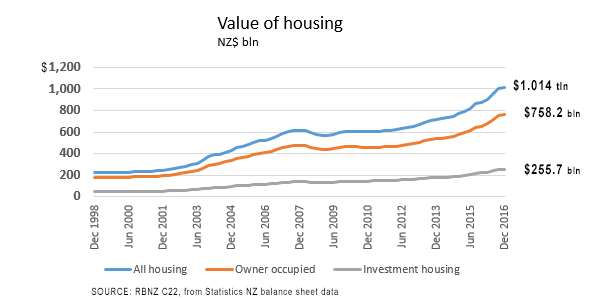 Further, Statistics NZ publishes data for the tenure of housing. By relating the value of all housing to the number of houses, we can get an average value and track it over the past 18 years……
Continue reading this article at the original source from Interest.co.nz
Own property in Wellington? Get our Free Halina Sells Houses e-Newsletter HERE